10 Tips - How to Write a Song from the Heart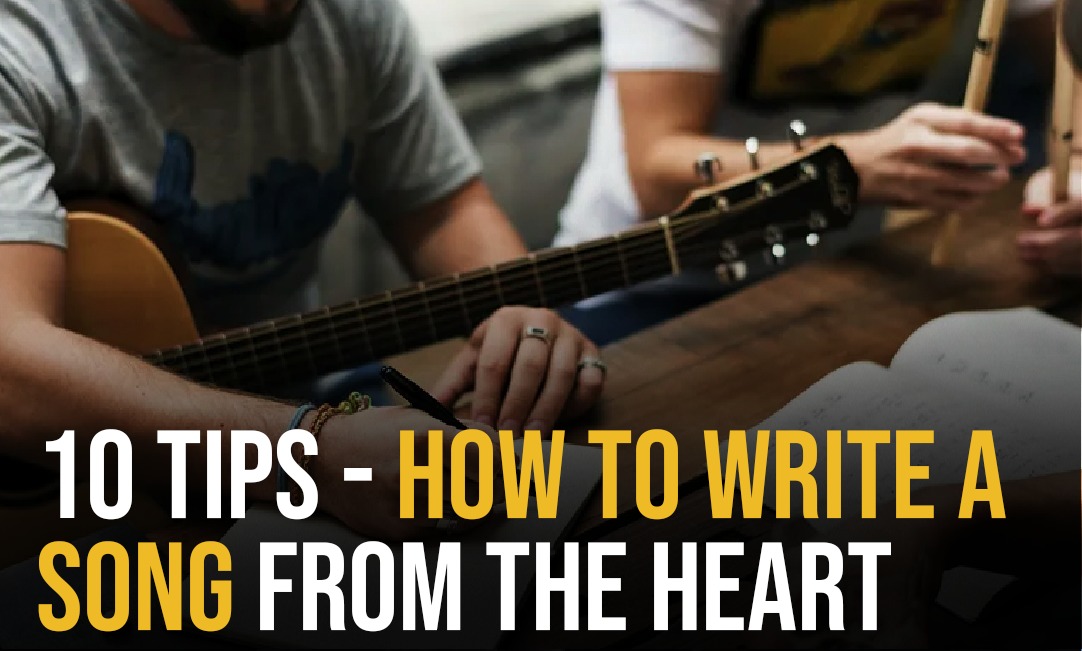 Writing a song from the heart or with artistic integrity can create history. A well-written song has the power to move your audience. It invokes feelings of pleasure, pain, intimacy, and more that help you connect with people. It acts as an inspiration for millions.
But what does writing from the heart means, which has the power to influence the listeners. As an artist or a songwriter, you need to be honest and be ready to open your heart in front of your audience to express your feelings that should sound authentic to them. If you can communicate through your words and music, you are writing your songs from your heart.
However, writing a song is an art that requires planning. Here are a few points that you must keep in mind to write a song that comes from your heart and takes your songwriting process to the next level.
Ten tips for writing a song from the heart
1. Be spontaneous
Songwriting is a creative process, and like any other art, it requires inspiration and spontaneity. You may have ideas, but you cannot force yourself to pen down anything forcefully. It often happens that artists suffer from writer's block and the best solution for such moments is to focus yourself on something else to overcome the block.
As an artist, develop the habit of writing and recording your thoughts. And when your spontaneity allows, use those words to frame your song.
2. Listen to music
To improve your songwriting, listen to the varied types of music available today. This will help you to express yourself in a better way. It offers varying viewpoints that help to broaden your horizon. Listening to music helps you to understand lyrics, melody, and chord structures and how you can blend them to create your unique music.
3. Give structure to the song
Songwriters often find trouble in giving a final structure to a song. They write different sections but could not connect them effectively. After writing the song, writers revisit the song to rewrite the verses. Avoid such an approach. You must first give the song the right foundation and then add lyrics and melody.
4. Be authentic
Authenticity makes you a good songwriter. No matter what genre you adopt for your song, show your true self and express your genuine feelings. Covering yourself under a persona makes you appear fake and audiences fail to connect themselves with you or to your music.
5. Express your emotions
Great music make people feel deeply. Before you start writing your song, have a theme in mind. This will give you a direction and an ability to create something concrete. Choose from a wide range of moods, which suits your theme. So, don't sit to write a happy song when you are feeling low or vice-versa.
6. Have good lyrics
Great music is a blend of beautiful lyrics and a perfect melody. Try to write meaningful lyrics as it helps your listeners to be able to relate to the song. Avoid using uncommon and fancy words. Great lyrics are written using simple but effective words.
7. Write what you believe in
Your passions give you a whole material for writing your songs. Your songs don't always need a social or political cause, but they must have authentic feelings about what you think passionately. Reflect within yourself about what you are good at, and then start your songwriting journey. You may be passionate about ballads, love longs, or revolutionary songs, identify them and move ahead.
8. Performance matters
As a songwriter, perceive your song from the audience's point of view. Whether you are performing it live or recording it, give your whole heart and energy to it. Before the actual performance, rehearse it and emote the melody and lyrics. Your audience can overlook imperfections in the pitch but not let forgo the zeal, the passion, and the feel.
9. Give priority to your instincts
There are music theories, but these should only be used as guides. The music rules must not be followed, religiously. Instead, follow your instincts. If you are not able to decide wh ere to start or transit, listen to your instincts. They pave the way for you. They are your best musical tools and make your voice and perspective unique.
10. Complete the task
Once you have started writing a song, finish it, no matter what comes in between. Obstacles are not unusual. They often occur during the writing process. But don't give up. Take a break and relax. It helps to revive and opens new perspectives for you. So take your time to develop your ideas, and work your way to the finish line.
Conclusion
Writing a song from the heart is a creative process, and sometimes it seems a difficult task, especially when you face writer's block. However, you can overcome this by relaxing and diverting your thoughts to something else. Apart from this, your honesty, vulnerability, passion, instinct, and feelings with the technical aspects of creation help in writing a song from the heart.
Once you have written your wonderful song, we can help you at each step of recording and production. UNION Recording Studio, a professional recording studio, is well-equipped with the latest technology and has talented audio engineers who can take your song to the next level. We also offer online mixing and mastering services to help our distant clients. If you require our help, contact us.