10 Best Free DAWs for Making Music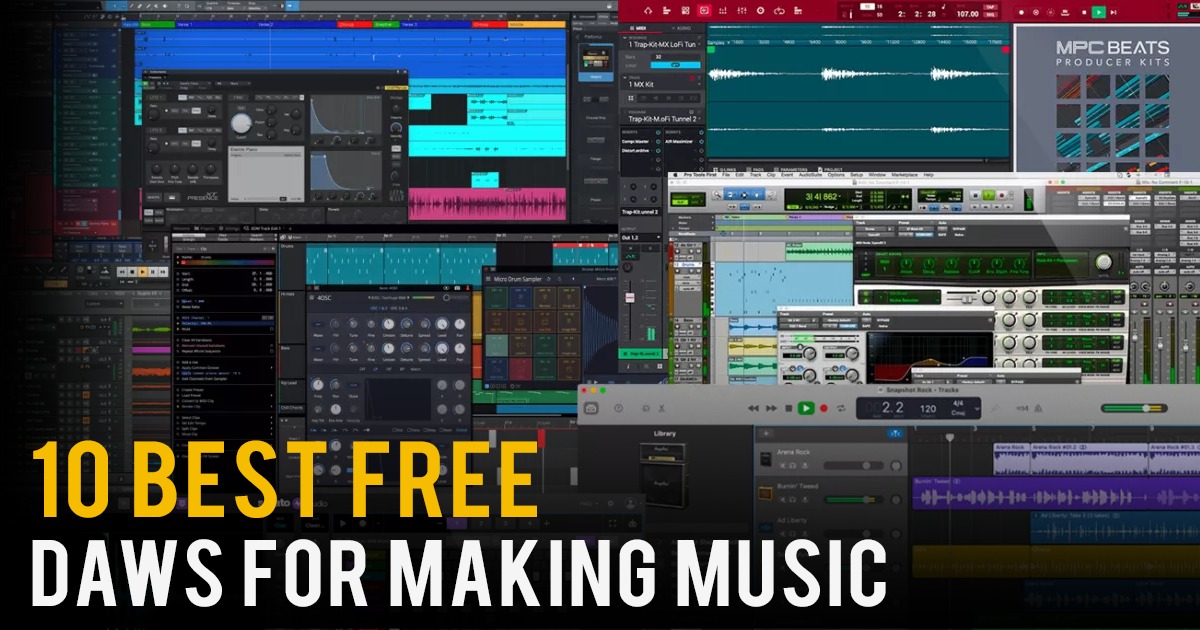 Creating music has never been so easy. Thanks to so many digital tools available in the market!
Having the correct tools may make music-making easier and more pleasurable.
But when it comes to music production, DAW is the first and most important tool for you. The software enables you to record, edit, and mix your tracks. Besides, many expensive DAWs, there are also several excellent free DAWS, each with unique capabilities and restrictions, which can be used for music production.
However, finding a free DAW that does all the functions you require for your workflow can be a real challenge. But don't worry! To make your search easy, here is a list of the 10 best free DAWs that can make your task incredibly easier and enjoyable.
Here we go…
1Audacity
Audacity is the original free DAW with several features that make it an excellent option for music creation.
It is an open-source multi-track audio recorder and editor and is accessible on Windows, macOS, Linux, and others. It contains an integrated effects processor that enables you to add different effects to your music.
The software is quite flexible, and the learning curve is not too steep. Both novice and seasoned musicians can create music with Audacity.
It's a great free Daw for tiny projects, but for larger projects, you may find its capabilities limited.
Another limitation of Audacity is that it cannot be used as a MIDI sequencer. That means you cannot use any MIDI tracks with your virtual instruments.
Still, it is a fantastic free Daw perfect for music production.
2. Waveform Free
Waveform Free is a fully functional DAW with a simple and attractive interface. It is simple to use and equipped with all the tools required to produce music of the highest caliber. You may get Waveform Free for Windows, Mac, and Linux.
The amount of tracks and plugins is unrestricted. Additionally, you can use any VST plugins that you have. Also supported by Waveform Free are MIDI and ReWire.
Both novices and experts should consider using this Daw. Waveform Free has you covered whether you produce hip-hop, electronic, or even classical music.
The only limitation with this is that its interface may pose difficulty for traditional daw users to understand it. Else it is great for both new and seasoned artists.
3. Ohm Studio
Ohm Studio is an excellent choice whether you're seeking for a free DAW to create professional-caliber music or just to get started with creating your own beats.
It is a fully functional DAW with support for VST plugins and a large selection of virtual instruments and effects.
Ohm Studio's best feature is that it's made for music collaboration, making it simple to connect with other artists and producers online and collaborate with them.
It's also one of the few DAWs that provides an unrestricted free version that you can use as long as you like.
The limitations of Ohm Studio are that there isn't a built-in MIDI editor, so to edit MIDI files, you'll need a third-party plugin or software, and its fundamental structure does not allow for complicated productions.
Except for these limitations, Ohm Studio is an excellent choice if you're looking for a free DAW that offers everything you need to produce professional-quality music.
4. Cakewalk by BandLab
Cakewalk from BandLab is a wonderful free DAW with impressive features for producing professional-quality sound.
Besides having a welcoming and user-friendly interface, you can use a range of various plugins and effects to alter your sound. A built-in sequencer in Cakewalk lets you make intricate compositions and rhythms.
New features and enhancements are added to the software on a frequent basis. The capabilities offered in Cakewalk by BandLab's free version are extremely excellent. However, some capabilities are exclusive to only paid version.
5. Reaper
Reaper, developed by Cockos, is a complete multi-track, MIDI recording, editing, processing, mixing, and mastering daw.
It works with a wide variety of tools, hardware, and plugins. for live performances or audio recordings, it can be used in "Live" mode; for studio-quality recordings, it can be used in "Studio" mode.
The software offers a user-friendly interface that is clear and uncomplicated. Additionally, it is incredibly adaptable and useful for a range of audio production activities.
New features and enhancements are added periodically during updates. The MIDI CC Envelopes feature, which is useful for producing expressive and dynamic MIDI performances, must be mentioned.
6. Ardor
Ardour is another powerful digital audio workstation, accessible on Linux, macOS, and Windows. It has a variety of features and is intended for professional use.
A global team of expert recording engineers, musicians, and programmers are leading the open-source project.
The software offers a simple, approachable user interface. Numerous audio plugins and formats are supported by it. A robust mixer and a built-in MIDI editor are additional features of Ardour.
If you're looking for a DAW of the highest caliber for professionals, Ardour is a fantastic option. It provides a variety of features. Although it's the ideal tool for experts, newbies can find it a little intimidating.
7. Garageband
Garageband, created by Apple, is a well-known digital audio workstation.
Available for both iOS and macOS devices, the program includes a variety of capabilities with an intuitive user interface. It contains numerous virtual instruments, which support Audio Units plugins.
Garageband is a well-liked platform for new musicians as it is quite efficient at producing music.
This simple-to-use music-creating software combines the simplicity and beauty of Apple's products with useful tools in a powerful way.
Mac users must not overlook this user-friendly but powerful tool.
8. Pro Tools First
Pro Tools First, created by Avid, is a well-known digital audio workstation that works with both Windows and macOS.
Compared to the full edition of Pro Tools, Pro Tools First has less functionality. It is still a very capable and user-friendly DAW, though.
It has many of Pro Tools' key capabilities, which makes it the DAW of choice for top-tier studios all over the world.
There are some disadvantages, though, that can cause you to hesitate. With First, you may record up to 16 audio tracks and use up to 16 virtual instrument tracks to compose a song. Additionally, you can only record four tracks at once.
Despite these limitations, Pro Tools First enables you to work on a free DAW before you could decide to work in a professional studio later on. That is a tremendous benefit!
9. Cubase LE
Cubase LE is a simplified version of Steinberg's well-known digital audio workstation, Cubase. A subset of the capabilities from the full version of Cubase is included in Cubase LE, which is geared towards novice and hobbyist users. Nevertheless, it's a strong DAW that can be utilized to produce music that sounds professional.
Instruments, MIDI editing tools, and an audio editor are all included in Cubase LE. Additionally, it works with VST plugins, giving you access to a huge selection of third-party plugins.
It is a fantastic option for beginners who wish to produce music that sounds professional. With only a few restrictions for users of the free version, Cubase LE represents the best of that tradition. With LE, you may record sounds on up to 24 virtual instrument tracks and up to 16 audio tracks.
10. Studio One 5 Prime
Studio One 5 Prime is a free version of Studio One, a popular DAW created by Presonus. Though it contains lesser features than Studio One's full edition, it's still a strong DAW that can be used to produce music that sounds great.
Studio One 5 Prime has a small number of virtual instruments, effects, and loops, but it offers everything you need to produce fantastic music. It's a wonderful option for beginners because it's extremely simple to use.
It comes with several effect plug-ins along with a full-featured mixing and recording interface, a sampling tool, a drum machine, and a step sequencer.
On the whole, it's a good place to start creating music at no cost. The absence of some functions present in the full edition is the only drawback, but for novice users, that might not be a significant concern.
Conclusion
These are some of the top free DAWs available with unique features that will aid you in music production. Choose any of these from the list depending on your requirements and move ahead in your music career. However, if you want more advanced features, go for premium options.
All these AI tools are great options for music production, but if you want your music to have humane quality, UNION Recording Studio, a professional recording studio, is there to help you. We offer various services related to music production. At our studio, we have Grammy-nominated audio engineers who mix and master your music compositions. They are great at their work and make your music incredibly awesome. For distant clients, we also offer online mixing and mastering services.
To avail of our services, connect with us.