10 Must-Know Record Labels in the Industry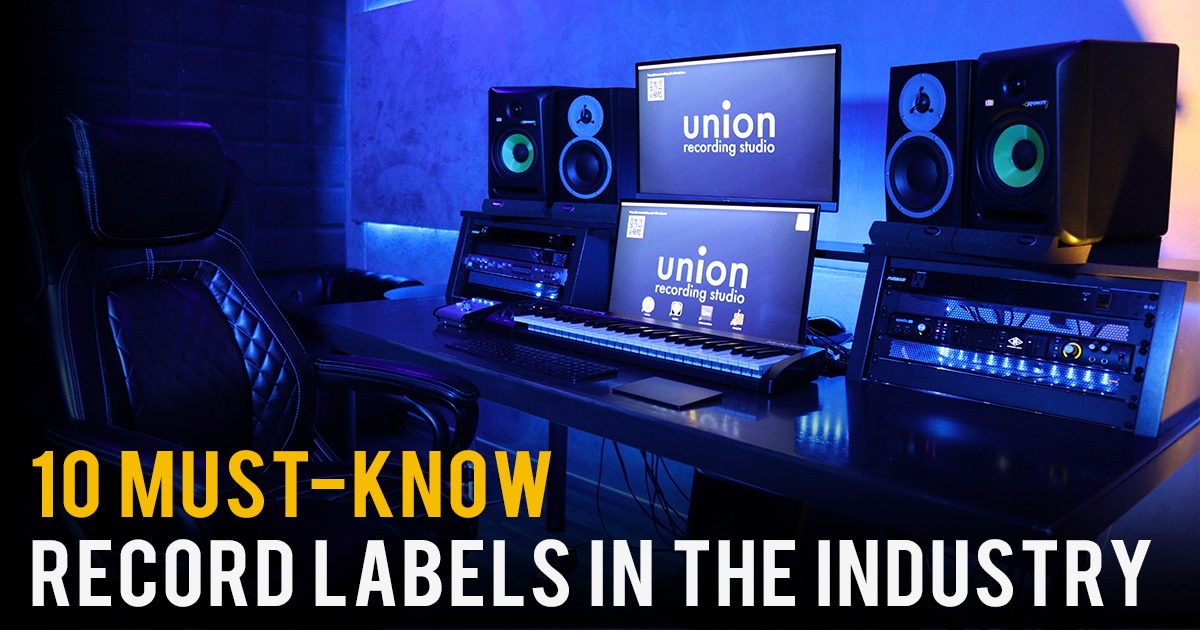 10 Must-Know Record Labels in the Industry

Sony Music, Universal Music Group, and Warner Music Group—loom large over the music business and have made a significant historical contribution to the sector as a whole. Under these three giants, there are other major record labels that have established themselves as leaders in the field. In this blog, let us know about the 10 most popular record labels in the music industry.
1. Sony Music Entertainment: Sony Entertainment, one of the Big Three, is a mashup of musical history with roots in the 1920s as the American Record Corporation. Its name has changed numerous times over the years, including Columbia, CBS Records (with Clive Davis), and finally Sony Music. Genre divisions like Epic Records, Columbia Records, Sony Music Japan, Sony Music UK, and Nashville are all included under their magnificent umbrella, demonstrating how truly international they have grown.
2. Warner Music Group: Warner Music is a division of Warner Bros Records, which was established in the 1950s when Tab Hunter, a well-known actor for Warner Brothers, decided to try his hand at music and put out a number-one hit. Warner Bros. Records was established in response to an opportunity to establish a presence in the music business, and in 2011 it was privately acquired to become Warner Music. Atlantic Records, Fueled by Ramen, and the independent branch Alternative Distribution Alliance are just a few of the labels that Warner has taken under its wing throughout the years.
3. Universal Music Group: Similar to Warner, Universal started as a division of Universal Studios but has been running independently since 2004. It may surprise some to learn that Universal is actually a subsidiary of the French media company Vivendi, but this has undoubtedly broadened its market reach. Since then, they have brought in labels with a strong focus on pop music, including Island / Def Jam Records, Republic Records, Cash Money, and Young Money.
4. Epic Records (Sony): In the 1950s, Epic Records began as a jazz and classical music company, collaborating with groups like the Berlin Philharmonic and Juilliard String Quartet. Today, you wouldn't think that. Pop, R&B, and hip-hop artists have all been added to their artist roster since the company's founding. It swiftly rose to prominence and was dubbed one of Sony's "flagship labels."
5. Columbia Records (Sony): The phonograph business, which originated in the District of Columbia and was established in 1887, eventually took the name Columbia Records. The label has undergone numerous changes over the years, especially in the 1960s under Clive Davis' direction. It is now a Sony Music flagship and has amassed great talent, including the individuals mentioned above.
6. Island Def Jam Music Group (Universal): Island Def Jam was formed in 1998 as a consequence of the merger of Island Records, Def Jam Recordings, and Mercury Records. Motown Records eventually joined the group. When they became the first to have seven number-one hits aired on the radio, including songs by well-known musicians including Rihanna, Jay-Z, Kanye West, Justin Bieber, and Ne-Yo, they achieved their height in 2012. With the popularity of Korean sensation BTS becoming well-known in the west, they are currently enjoying a similar explosion.
7. Aftermath Entertainment (Universal): The most important aspect of Aftermath is that Dr. Dre founded it. Despite being a part of the Universal Music Group, it has a far-from-small-fry roster of artists. Along with their newest star, Anderson, several of the artists on their roster have attained either Platinum or Diamond status. On his approach to achieving that same position, Paak has been making headlines.
8. Young Money Entertainment (Universal): Young Money was created as a result of the bitter split between Cash Money and Lil Wayne, which followed a nasty argument between Bryan "Birdman" Williams, the label's founder. Drake and Nicki Minaj were among the artists Lil Wayne brought with him when he left the group to start his own label. Since then, the company has had 12 albums among its successful artists debut at number one, and it shows no signs of slowing down.
9. Republic Records(Universal): Since Taylor Swift officially switched to Republic Records this past year before her prior label, Big Machine, was put up for sale, you might have recently seen the company's name in the news. Republic was founded in 1995 and was purchased by Universal Music Group in 2000. They don't discriminate, and their genre variety is as diverse as the many labels on this list. Republic Records has had success with a variety of artists, from pop stars like Jessie J and Ariana Grande to major hip-hop figures like Post Malone, Snoop Dogg, and Wiz Khalifa. They're also taking a chance on TXT, a rising Korean boy band that is closely following BTS's popularity in the West.
10. Atlantic Records (Warner): When it comes to jazz, soul, and R&B, Atlantic Records comes to mind, with artists like Aretha Franklin and Ray Charles among their roster of well-known performers. The musical spectrum grew to include rock and pop in 1967 after being purchased by Warner Music Group, but it has maintained a strong connection to its sensual, groovy roots.
Conclusion
These are the ten well-known major label names, you must know if you want to succeed in the music industry. Even while we always advise artists to make the best and independent choice for their careers, we are aware of the enormous power these big businesses wield in the areas of distribution, tour management, and music production.
UNION Recording Studio, a professional recording studio helps aspiring artists in moving ahead in the music industry. Besides, updating you with the music industry, we provide you with a rental studio, and other services, such as recording, mixing and mastering your tracks. We can also help you with professional photography and videography.
To know more about the working of the music industry, stay tuned with us.