4 easy steps to sell music from your website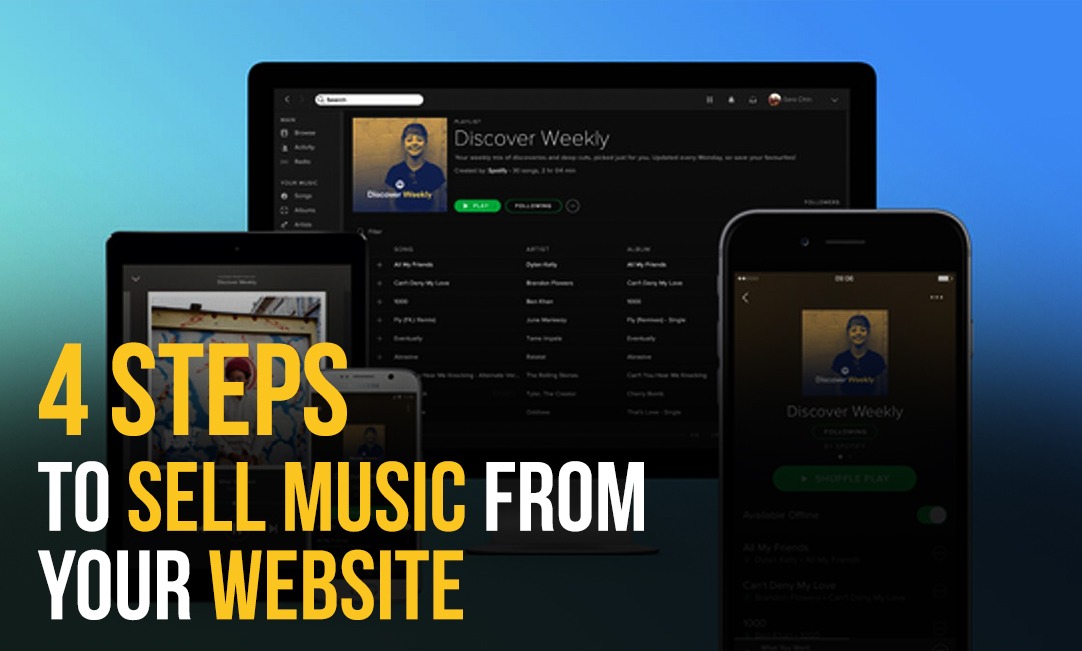 Wondering how to sell your music and make a decent living.
You've taken a lot of pain to make your tracks sound perfect. Now, definitely, you'd like to earn something out of it.
Are you considering having your own website? If yes, you're on the right track!
Selling your music through your website is a great idea. Besides, it also gives you a space where you can upload all the information related to yourself, your music, or your band.
Continue reading to understand why having a website is vital and how you can sell your music using it.
Today, many artists like you prefer streaming services such as Apple Music, Spotify, Google Music, and Amazon Music to make their music popular among their fans. It's absolutely necessary but to get the full potential fr om your creation, you need to have your own website. It has several advantages over the others. These includes:
You have full control of the selling processes.

You don't need to share your profit with any streaming platform, distributors, or other middlemen.

You can showcase your brand's unique personality.

You can directly sell your music and merch to your fans.

You can sell all the digital downloads, such as beats, samples, music lessons, etc. from your website.

You have personal access to your data. You can use the email of your customers to develop personal relationships and keep in touch with them.
So, without waiting, create your own website and start selling your music. It just requires four simple steps. Here they are.
1. Obtain a domain name
Here, we mean the address of your website. Choose a name that highlights your name or your band to make it easier for your fans to memorize it. Then comes the domain extension. It's not just .com but many others in the market such as .in, .org, .net, etc. You can opt for any as per your choice.
2. Choose a website platform that can sell music
Choose a platform that gives you flexibility in snapping in any extra functionality that you may need. This includes;
A payment gateway from wh ere the transfer of funds can be done.
An SSL (Secure Socket Layer) certificate, is the standard security measure that encrypts important data.
A product page to conduct all e-commerce functionality. It must be flexible enough to enable you to upload your CDs, tracks, cool merchandise with the band's logo, etc. to your website. A great idea! Why not give your customers an opportunity to call themselves true fans.
3. Enrich your website with photos, videos, and audios
Once your website is ready for e-Commerce functionalities, make it stand out with quality content such as text, images, audio, and video. Once people get connected and know you, they'll purchase not only your music but also the merchandise. It also allows you to include an online calendar and keep it updated with all the appearances that you'd be making.
An important tip: Use original content. Do not use copied images or texts from the internet. It affects your image as an artist.
4. Promote your website
Once your website is live on the internet, promote it. We've more than a billion websites currently active on the internet. You need to make a little effort to increase the visibility of your online presence. Social media is a great platform. Stay socially active. Link your Facebook page to your website. Periodically Tweet and upload content on YouTube. Add their links to your site. Today, even blogging is effective. These marketing strategies would help you to rank higher.
Conclusion
Your website gives you ample opportunity to promote and sell your music, providing you're consistent and innovative. Start your music career and promote yourself. UNION Recording Studio is there for you to assist during the production and post-production phases. With a fantastic artist-friendly environment and a team of sound engineers, we're there to serve you. Do connect with us.