Avid Pro Tools: The Ultimate Guide for Beginners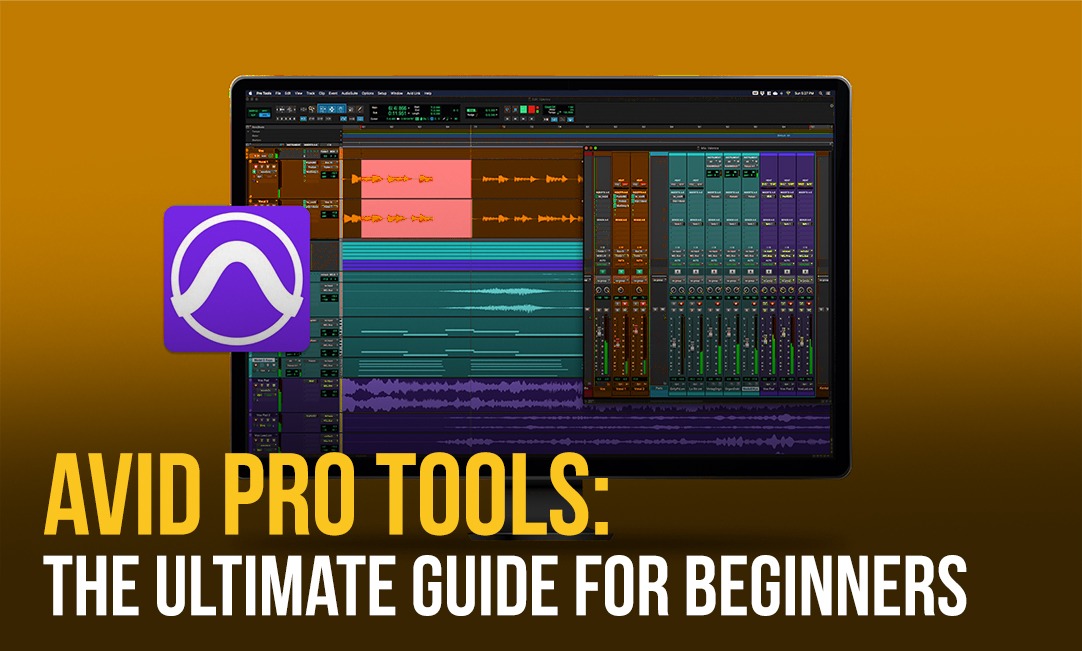 Do you ever think about how your favorite songs are made?
There are lots of possibilities that incredible Producers and Mixers like Chris-Lord-Alge, Dave Pensado, Serban Ghenea, Jack Douglas, and Rick Rubin used ProTools to record, edit, and mix them.
ProTools has been the industry standard for over a decade, and is used in major studios across the globe, as it's an incredibly powerful workstation that can handle any audio-related task with ease!
Avid's Pro Tools, one of the first digital audio workstations, is the industry standard DAW in professional recording facilities around the world. It is a popular tool among engineers and emerging producers.
But what makes this classic recording software so popular? Obviously, it's incredible features.
Here, let's have a look at its features that will help you decide if this is the best DAW for your workflow.
Why is Pro Tool so well-liked?
Pro Tools, first developed during the first era of digital recording technology, improvised itself in the last few decades and today it comes in a variety of editions that cater to every skill level.
Advantages of using Pro Tools.
audio editing
First of all, in its early years, Pro Tools was a pioneer in non-destructive audio editing. Thanks to features like Beat Detective and Elastic Audio, it's still one of the best platforms in this important area.
Pro Tools makes it incredibly simple to manipulate audio for any circumstance you might run into during the course of making music.
Once you understand the fundamentals, aligning content to the tempo grid, comping, copying, pasting, and merging entire sections of music become quick and simple tasks.
It is equally simple to apply fades, manage multiple versions of tracks, and perform other crucial organizational tasks.
Pro Tools may have the best workflow if you need editing capabilities on a professional level.
Stability
Pro Tools was developed to satisfy the strict requirements of professional audio engineers.
Technical issues cause downtime during pricey paid sessions, wasting both time and money.
It's one of the main reasons Pro Tools is one of the most reliable DAWs for essential tasks like bulk track recording.
Pro Tools should be on your list of things to try if you use your DAW for important tasks where failure is not an option.
How can you buy Pro Tools?
Since its inception, Pro Tools has developed into a complex ecosystem of products with a range of tiers, prices, and features.
Avid recently changed its pricing to a subscription model, similar to many other industry titans of software for creative tools.
In order to avoid any confusion, I'll also make reference to the previous names of each subscription level since Avid recently changed the names of their Pro Tools products.
Here is a quick overview of each tier, including its cost, hardware specifications, restrictions, and upgrade options.
1. Pro Tool Artist
The free Pro Tools First edition has been replaced as the most affordable Pro Tools edition by Pro Tools Artist.
It is designed for budding artists who require the best value in a DAW.
A notable free recording app with notable restrictions was called Pro Tools First. It was Pro Tools LE's replacement, and it came bundled with early audio interfaces like Digidesign's own MBox.
Pro Tools Artist does not need any proprietary hardware other than iLok, in contrast to these earlier editions.
It has 32 audio tracks, 32 auxes, 32 instrument tracks, 64 MIDI tracks, and 16 channels of simultaneous I/O.
It is priced at $99 / year, which is a decent amount for beginning and intermediate producers.
2. Pro Tool Studio
Pro Tools Studio is the middle-tier version of Avid's DAW.
Better known as Pro Tools in its initial stages, it is the most alluring option for serious creators as it has few restrictions and requires no hardware.
Although there are still some restrictions on tracks and I/O, the maximum number of audio tracks has increased fr om 256 to 512.
Pro Tools Studio's 32 simultaneous I/O channels are sufficient for all but the most demanding workflows.
It is just priced at $299 annually, which is obviously not an expensive deal for its awesome qualities.
3. Pro Tools Flex
The top-tier Pro Tools Flex has replaced the hardware-only Pro Tools Ultimate.
Avid has concentrated on bundling hardware for this version of Pro Tools to meet the demands of large facilities and post-production audio professionals. It's the reason why the systems on the market right now come packaged with the Pro Tools Flex software, HDX cards, and Avid I/O interface.
Of course, HDX or HD Native DSP hardware is necessary for this version of Pro Tools to work.
While HD Native cards are offered in a standalone enclosure with a Thunderbolt connection, HDX cards are designed to be connected inside your computer in PCIe slots.
Both come with exclusive connections to Avid interfaces, enabling the quickest connection to Pro Tools software. Additionally, they enable real-time tracking with Avid's AAX DSP plugins, which are exclusive to the HDX ecosystem.
It is now possible to run the truly massive sessions needed to record orchestras or mix movie soundtracks thanks to the DSP power.
Because of this, these Pro Tools setups aren't typically advised for budding producers or even small studios.
Features of ProTools
Whether you go for Artist, Studio, or Flex, Pro Tools has a few key features that you must know.
1. Creating Tracks: Artists can create nine different types of tracks with Pro Tools. These are Audio, Aux input, Master, MIDI, Instrument, Video, VCA, Basic folder track, and Routing folder.
2. Play listing and comping: With the playlists feature in Pro Tools, you can store multiple takes on the same section of the timeline.
You can sel ect the best moments fr om each pass and move them up to the main take by making a new playlist for each pass. This procedure is known as comping, and learning it is a fundamental skill for any producer.
3. Quick Punch: Pro Tools has a special feature called Quick Punch that is designed to make punching in and overdubbing easier.
Regardless of whether the transport is in playback mode or record mode when Quick Punch is enabled, tracks that are recorded armed will record audio.
4. Beat Detective: It is a feature for editing audio and is often used to align percussive material to the tempo grid. The beat detective detects transients in the recorded material and slices the file into new clips.
These new clips can be quantized like samples to bar and beat divisions with a precise cut made at the transient.
Beat Detective automatically stretches the borders of the regions and creates crossfades for seamless playback to piece it back together.
5. Elastic Audio: It is Pro Tools' editing tool for tonal material and sustained sounds, while Beat Detective is ideal for percussion.
In order to help you finish your tracks on time, it makes time stretching notes and chords simple and transparent.
What is new in the latest Pro Tools?
The Pro Tools Range update from Avid adds a few new features to help users make the most of the DAW. Here, let's see what's new in Pro Tools 2022.
Heat
When using a DAW, many engineers long for the warmth and subtle saturation of an analogue console's summing bus.
The effectiveness of the signal summing itself is a topic of ongoing discussion in the pro audio community, but there is no denying the beneficial effects of the subtle saturation that some analogue gear can produce.
The new Heat control in Pro Tools 2022 enables you to gradually introduce the flavor of analogue summing to your session.
Dolby Atmos
The newest multichannel format, spatial audio, is revolutionizing the ways how listeners according to the Dolby Atmos specification experience music.
According to the Dolby Atmos specification, the medium offers the most immersive audio experience till date.
Naturally, mix engineers are searching for audio production tools for these new formats in the current generation of DAWs. If you choose to explore three-dimensional audio, Pro Tools 2022 offers a variety of features to aid you.
Conclusion
Pro Tools is a professional tool for all producers. It is one of the most comprehensive and advanced audio production software suites.
Although learning it may seem like a huge undertaking, it is not as difficult as it seems. After all, Pro Tools only has one function, and that is to make music.
There is no other option if you want a DAW that adheres to the strict professional standards of the commercial recording sector.
Pro Tools should be on your list of things to try even if you're just looking for a reliable production environment with fantastic features for working with audio.
UNION Recording Studio , a professional studio in the heart of Los Angeles, supports emerging artists in music production with its multiple incredible music production services. If you are looking for the best place wh ere you can produce your music, our professional studio is the best place. With technically advanced tools and equipment and Grammy-nominated audio engineers, we transform your best composition into awesome. To know more about our services, connect with us.