How to Create a Stunning Artist or Band Logo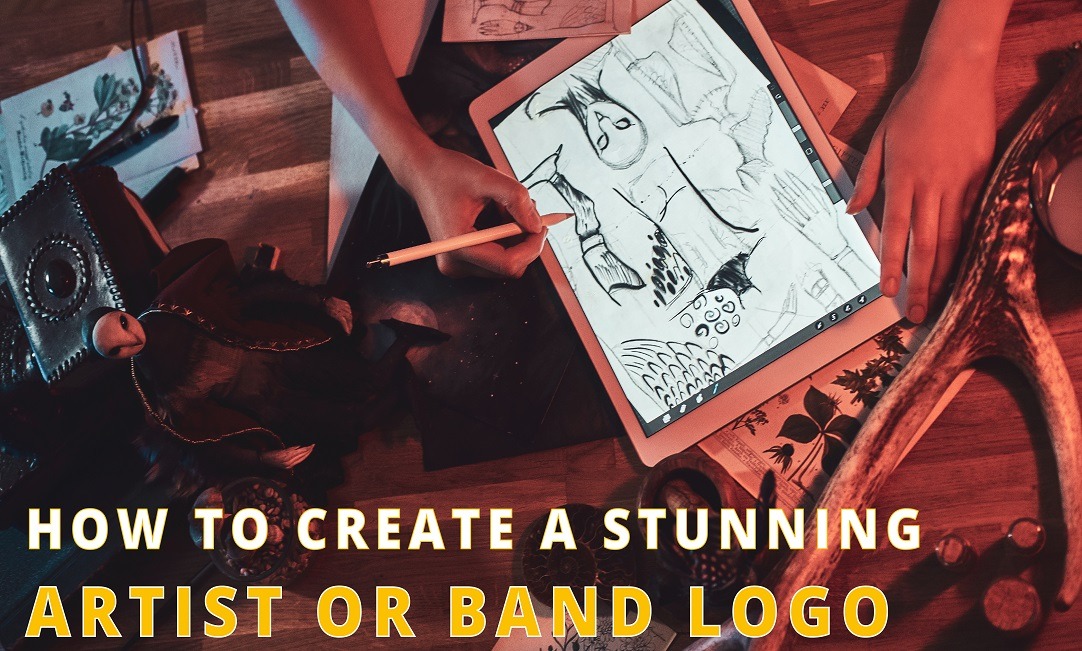 Like every other industry, the music industry is a business; for a thriving music career, you must apply the marketing fundamentals.
To be successful, you must establish a strong personal brand. Making a stunning music logo for your band is a great place to start.
In this blog, we'll learn about how to create an eye-catching artist or band logo that would help you market, give you recognition in the industry and increase your fan base.
Benefits of logo for emerging artists
Before going through how to create a logo, let us first understand the benefits of a logo
It enhances brand awareness
Your music brand will be more visible to your target audience if it showcases more frequently the features it offers.
If people are familiar with your logo, it will also be recognized. Making an effective music logo design will enable your brand to stay in people's minds.
· It improves the identity of your brand.
Making a logo for your music brand can give your music more context and introduce you to potential listeners.
· It is a fun method to win over your followers.
Your audience will have a way to express their musical tastes if you have a unique logo design. So, without any doubt, it would be wise to develop a music logo.
Seven wonderful tips for creating a stunning music logo
1. Identify your goal with your logo
Before you start creating, you must know what you want to achieve with your logo. We have already seen the benefits of a logo. Now you must choose the ones, which are most important to you, and then start designing your logo. But to structure your logo, make sure to ask yourself the following question
What is the use of my music logo?
Who will see my logo?
· Do you have any existing brand identity for you to uphold?
Is there a secret motive behind designing the logo?
2. Explore other artists and logos for inspiration
While exploring the logos, you must have realized that music logos are greatly affected by their respective genres.
And if you stack practically any logo from different genres against one another, you'll be able to notice this.
For instance, take a look at JLS's logo which makes use of bubble-style typography, rounded edges, and a very friendly, pop music vibe, while Iron Maiden tends to go for edgier and spikey shapes and lines.
By looking at prevalent themes among performers in the genre, it will be easier for you to get a rough notion of how to start designing your logo. You can use it as a framework and customize it to benefit you.
You should know that each genre has its own artists or bands, each of which has a distinct identity. You can obtain inspiration from your own creative well by researching well-known bands and similar artists.
3. Create a unique logo
Niche analysis can give insight into what is overdone in addition to concepts.
Even though a logo isn't the most important part of a band's identity, you nonetheless work to set your brand out from the others.
You don't want to create a standardized logo that blends with the thousands of other bands you share on the stage.
Avoiding cliches is an effective strategy to maintain your originality and creativity.
It can be tempting to include a musical emblem or a "music-intrinsic" image, such as a guitar or a pair of headphones, but these elements are severely overdone.
You must remember that no one is going to pay attention to a logo that does not provide any artistic value.
4. Choose colors wisely
Color is a crucial component of any logo.
It must be nicely integrated into the overall brand identity.
After all, each color conjures up distinct connections and has certain connotations.
Spend some time and effort learning about the psychological effects of various colors and how they affect people.
This will assist you in selecting the logo's color scheme.
5. Make the best use of images
The general consensus among experts is to keep the number of images in your logo minimum and focus heavily on other design components, such as color and typography.
However, this does not preclude you from using your imagination and experimenting with form and shape.
For instance, consider the bands The Rolling Stones and Guns N' Roses.
The former has a distinctive visual and no writing at all, but the latter employs the exact imagery of their name, ie, guns, and roses, in their music logo design.
However, the two still remain the most recognizable and well-known music logos ever.
6. Choose your font
The font or typography you choose to employ will likely be the element of your music logo that people will most likely recognize.
The typeface you sel ect is important because it will be used to incorporate your artist or band name into the logo.
It is preferable to create your own typeface if you have access to the tools than to use one that already exists. Time New Roman and Arial, two frequently used fonts, run the risk of having negative connotations associated with them. You may more effectively highlight your identity and create a sense of brand coherence by using a font that is uniquely yours.
Fonts are also heavily influenced by genre and convey messages to fans about you and your music, either knowingly or unconsciously.
For instance, Metallica and other heavy metal bands are renowned for their incisive lettering.
On the other hand, Gorillaz purposefully chose a graffiti art-inspired font to pay homage to their hip-hop background.
7. Keep it simple and flexible
Always remember, that a logo can be used for a variety of various things and that it serves many different functions.
Consider this when creating a music logo, and make sure your design can be modified to suit various situations.
For instance, a separate version of your logo may be needed for your social media accounts compared to your tour announcement.
While the latter will benefit fr om a few intricate marks, the former will look excellent without too many details.
Keeping your music logo design adaptable to little modifications is fantastic!
Conclusion
Logos are essential for promoting yourself and your brand. Hence it should be eye-catching and of optimized size for use across different platforms. Use the above tips to create a logo to serve your purpose.
UNION Recording Studio
, a
professional recording studio
, helps budding artists boost their careers with various music-related services such as mixing and mastering the audios. In addition, we also offer musical tips and tricks to the artists and update them with the latest trends in the music industry. To get updates, stay connected with us.