How to Market Your Music After Recording In a Los Angeles Studio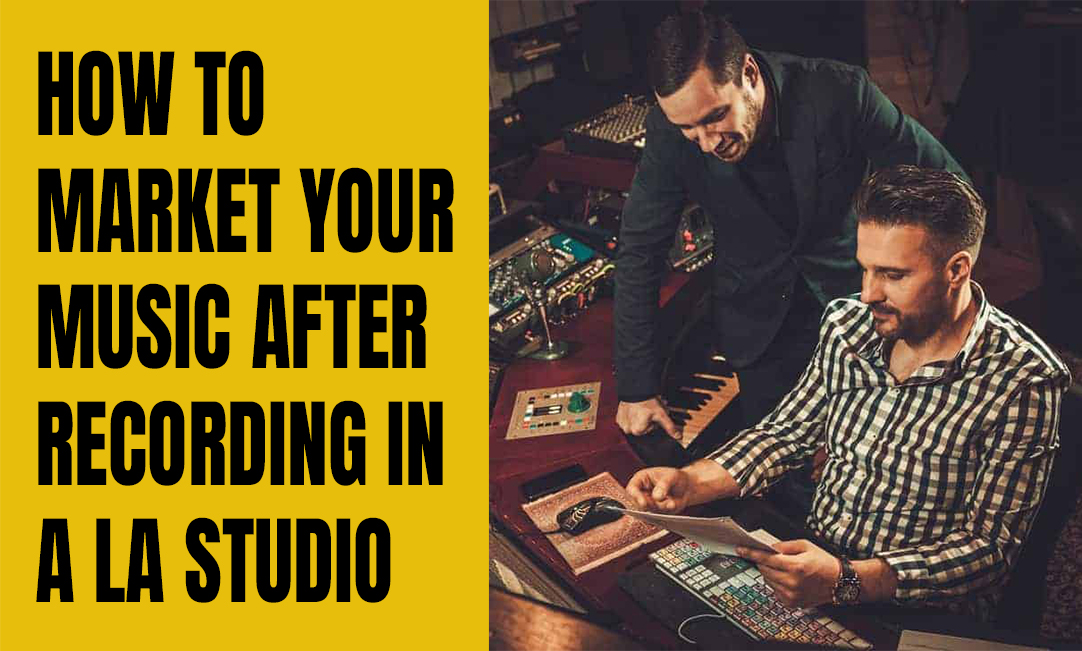 Date: 9-June- 2023

Most music artists after releasing their music, stop working on it. As a music artist, avoid making this mistake as it will prevent you from achieving your goals. After you have produced and released your music, you must make all your efforts to market it to reach a large audience and grow your fan base. Read this blog that contains marketing for music artists after you have recorded your music in a Los Angeles studio.
1. Build your brand as a music artist
The first step is to establish your brand before even considering how to promote your music, just as you would when starting a business. It implies that you must determine what distinguishes you from other music artists and what makes you special.
While building your brand for marketing for music artists, you must consider the following things:
Determine the musical style or genre that most accurately describes your music. Based on this, consider the kinds of people who like this style of music. With this knowledge, you'll know what these potential listeners want and expect from your genre of music.
While marketing for music artists, you need to use your brand to communicate who you are as a music artist. What distinguishes you from others among your strengths, qualities, and weaknesses? What causes do you support and promote to the audience you're trying to reach? Additionally, how would you like to interact with your audience? Which language and tone will best convey your personality to your audience?
Make sure your content is in line with your brand when producing it, whether it be music, graphics, or communications with your audience. All these factors will work together over time to help you build a strong brand and develop stronger connections with your fans through transparent and consistent branding across all platforms and channels.
2. Make a solid online presence using different social media platforms
Today social media plays a crucial role in marketing for music artists. Use it to promote your music. However, it is a time-consuming process hence you must use it strategically.
What you should do
Post regularly on various platforms to keep your fans engaged
Being consistent is key to expanding your social media audience and being found more frequently. Keep your fans informed about your music, most recent releases, upcoming releases, tour dates, press releases, and any interesting content, by regularly publishing content on your artist page.
Next, keep your fans engaged by interacting with them, asking what they prefer, what they want to know about you, etc. You can use stories, Facebook Live, or Instagram Live to get their input on your musical content.
Engage your fans with behind-the-scenes content
People enjoy viewing your creative process, song-recording process, day-to-day activities as a music artist and upcoming projects. It makes them more sympathetic to you and enthusiastic about your upcoming endeavors.
3. Upload your music on music streaming platforms
Nowadays, music streaming services like Spotify, Apple Music, and Tidal, provide great opportunities for marketing for music artists and reach new listeners. Here's how to make the most of these platforms.
Make sure your artist profile is always up to date when creating an account on a streaming platform. It should include quality images, a thorough bio, and links to your social media and website (if you have one).
You can reach new listeners and increase exposure by adding your music to relevant, well-liked playlists on the streaming service. To submit your music to pertinent playlists, you can also get in touch with curators or make use of websites like SubmitHub.
Use analytics from the platforms
Most streaming services offer analytics tools that let you keep tabs on your music's performance and listener demographics. This knowledge is priceless because it will enable you to better understand your audience and produce content that resonates with them.
4. Market your music through music blogs and publications
Featuring your music on music blogs and publication is another great way for marketing for music artists to get your music heard and establish themselves as a brand. Numerous online publications and blogs dedicated to particular musical genres are available in Los Angeles. Try getting your music featured on these blogs and publications.
You can approach Aquarium Drunkard, Los Angeles Times, Music 3.0, Music Connection, Underground Hip Hop Blog, Grimmy Goods, LA Records, and others. These are some of the best music blogs and publications in Los Angeles.
5. Collaborate with the music industry professionals and other music artists
You cannot pursue a successful music career on your own. You must establish connections with people in the music industry. This will eventually help in marketing for music artists. But where should you start?
You can meet music industry professionals by attending events like music festivals, concerts, conferences, and networking functions. Know who will be there and learn as much as you can about them before you go. In this manner, you can approach them when you meet them with interest and strike up a useful conversation. Prepare a concise pitch about your musical interests and professional objectives that is consistent with your branding. Don't forget to find a way to stay in touch with them, perhaps by exchanging business cards or connecting on social media.
Los Angeles has several venues where music artists from different genres perform live. To build your brand and expand your reach, attend and perform at these venues whenever possible. The live performance in Los Angeles where you'll have the chance to demonstrate your musical talent and prowess.
Additionally, you can conduct searches for other music artists who fit your musical preferences and professional aspirations. To establish connections, follow them on social media and interact with their content.
6. Use paid advertising
Paid advertisements also help in marketing for music artists. If you have the budget, consider using paid advertisements to promote your music. It will help you expand your reach and gain an increased fan base. However, adopt a wise advertising strategy to manage your advertising budget properly.
How to move ahead
Identify your target audience
For this, first, you need to understand your audience. In order to create your target advertising audience, you must take into account factors like age, location, and especially musical preferences. In this manner, your advertisements will be seen by the right audiences who are eager to interact with your content.
The advertising channel you decide on is crucial as well. You must confirm that your intended audience utilizes this platform. Additionally, every platform, including Facebook, TikTok, Instagram, and YouTube, has its own advertising options and costs. To select the one that best fits your advertising objectives and financial constraints, you must take this into account.
You must produce material that will captivate your target audience and effectively present your music. Because it is a more appealing format and your audience will be able to listen to your music directly from your advertisement and start engaging with it if they like it, choose music video format (short videos) rather than pictures for music advertisements.
Monitor and optimize your campaign
All these advertising campaigns offer comprehensive statistics on the effectiveness of your ads. It is crucial to keep an eye on them and analyze them in order to determine what works best and optimize your ads. Create various ads with various content, then test them for a few days or weeks to see what is effective. For the best click-through and conversion rates, you can also filter your target audience differently. Repeat your strategy once you've tried it and discovered what works to expand your audience and increase your fan base.
7. Create original quality music videos
Nowadays, it is very difficult to promote your music without visual materials to go along with it. You must consider making a music video for marketing for music artists. Follow the below tips to create your videos before releasing your new song.
Pick a theme, and weave a tale about it.
You must establish a distinct concept for your music video that aligns with your branding and the song you are promoting. Weave a story around your concept, use it to elicit feelings from your audience and communicate the message of your song.
Plan your shoot. Decide the place where you will film, who will assist you, and what attire, accessories and equipment you will require. Once everything is ready, start filming and gathering the various film sequences.
Finally, you will require to edit the video, get it polished and publish it on various platforms, such as on social media, music streaming services, or paid advertisements.
Conclusion
Thus, marketing for music artists in Los Angeles is crucial for making a successful career in the music industry. Follow these strategies to expand your reach and widen your fan base.
UNION Recording Studio, a professional recording studio in Los Angeles, work with aspiring and seasoned music artists and help them achieve their goal by offering them affordable music-producing services.