How to Network in the Music Industry in Los Angeles: Tips and Tricks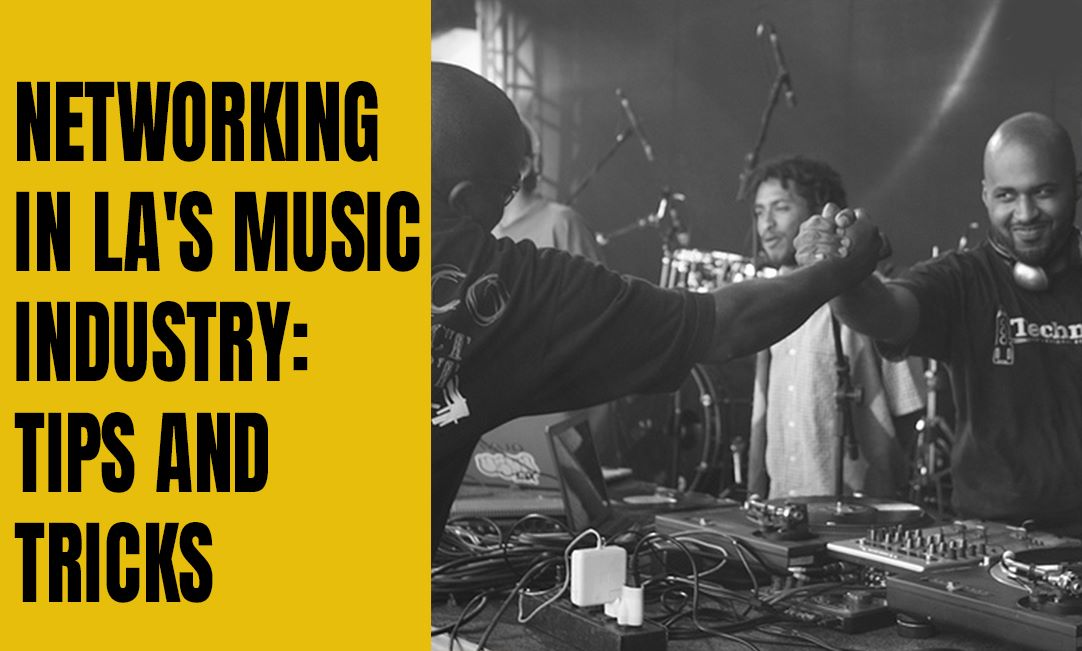 Date: 27-April-2023
If you're looking to break into the music industry in Los Angeles, networking is essential.In this blog, I have for you some of the best tips and tricks for how to network in the music industry in Los Angeles.
Tips and tricks for networking in the music industry in Los Angeles
1. Attend Music Industry Events
Attending music events is one of the best ways to network in the music industry. Los Angeles, with innumerable music scenes, organizes a number of music events. These events—whether they are music festivals, record release parties, music conferences, or networking mixers—are fantastic opportunities to network with people. Be prepared to introduce yourself and your work, and make sure you have plenty of business cards with you that you can distribute among industry people.
To begin with networking, you can start by going to local workshops and conferences. By attending the events, you can interact in person with other music artists and learn more about their networks, which, if you two click, may one day become your network.
At these events, you can meet booking agents or even an A&R representative in addition to networking with other music artists. So, in order to use this method, you must be prepared with your materials, such as the elevator pitch and EPK. Since you will be conversing with people who may present you with new business opportunities, the networking opportunities at these events are limitless.
2.Join Professional Organizations
Another successful method of networking in the music business is by joining professional organizations. The National Academy of Recording Arts and Sciences (NARAS) and the Los Angeles Music Network (LAMN) are just two of the many organizations in Los Angeles that support music artists, songwriters, and producers. These groups frequently host conferences, workshops, and other gatherings where you can network with other business people.
3. Performing Live at Different Venues
As a music artist, you always look for opportunities to perform live. In Los Angeles, you can find several venues, such as clubs, bars, restaurants, theaters, and other places where you can showcase your talent through musical performances and music open mic nights. Performing live assists in making money and networking with others in the industry. The majority of the time, A&R representatives look for their next big star at concerts and clubs. As you play your music to a new audience, you can also promote it in this way.
There are hardly any drawbacks to this approach. However, in order to be booked, you must be prepared with an EPK and a song demo for booking agents or club managers. Additionally, you'll need a polished pitch to show how your music fits their vibe and style.
4. Use Social Media to Promote Yourself and Your Music
In the music industry, social media can be a potent tool for networking. Platforms like Instagram and LinkedIn can be excellent for connecting with business people in your field and promoting your work.
Take your time creating a social media presence before even contacting anyone in the music business. The majority of emerging and well-known music artists today are discovered on TikTok, Youtube, Soundcloud, etc. Social media platforms are new business cards for music artists.
Through your social media accounts, people can find you and get in touch with you. Making sure that it accurately conveys your artistic skills and your uniqueness. To expand your network, engage with the content of industry influencers and professionals, share your own work, and follow them.
5. Electronic Press Kit
For self-promotion on different platforms, keep ready your electronic press kit. An EPK help increase your brand awareness among influential members of the industry, such as booking agents, music bloggers, talent buyers, etc.
Over time, EPK will become a crucial component of your musical career. You typically include your biography, pictures, most recent releases, previous performances, and contact information in an EPK.
6. Reach out Emails
Always choose personalized emails for reach-outs that demonstrate your familiarity with the recipient's work and explain why you might be a good fit for them.
Although using an email template can be helpful, you shouldn't send it without making significant changes and additions. Most professionals in the industry can be found on LinkedIn, where you can also find their email addresses.
Sending your EPK and music demo via a reach-out email will help the A&R representatives or booking agents get a better understanding of who you are. In the end, you are still a stranger who sent an arbitrary email. As a result, you must personalize it as much as you can.
7. Collaborate with Other Music Artists
Another great way to expand your network and get exposure in the music industry in Los Angeles is to work with other music artists. Look for other music artists, producers, and songwriters who would want to work with you on a project. You can grow professionally and personally by working with others. Collaboration offers several benefits, such as
It helps in sharing ideas and using different skills. By collaborating with others who can offer complementary skills and ideas, your music and musical knowledge will improve by
It boosts productivity. It is easier to get past creative obstacles if people support and encourage one another. Collaboration holds you responsible for meeting deadlines and deters from procrastination and endless tweaking.
With collaboration, music artists can learn new techniques. The best part of collaboration is you can share knowledge.
Your partners will give you feedback and criticism which will help you view your music skills from a new perspective
Along with gaining valuable experience, expanding your network will allow you to potentially find new opportunities.
8. Be Persistent
Building relationships with industry professionals can be difficult and time-consuming when networking in the music business. There are chances, you don't see results instantly. However, don't give up. Continue going to events, making friends, and spreading the word about your work. Long-term, persistence pays off.
Conclusion
Success in the music business, especially in Los Angeles, depends on networking. You can develop a strong network and improve your chances of success in the industry by going to industry events, joining professional organizations, using social media, working with other music artists, and being persistent.
UNION Recording Studio, a recording studio in LA, assists aspiring and seasoned music artists in getting professional-quality music through our music-producing services, such as a rental studio, audio recording sessions, and mixing and mastering services. We also help you with professional videography and photography that you can use during self-promotion.