Online Strategies for LA's Rising Music Stars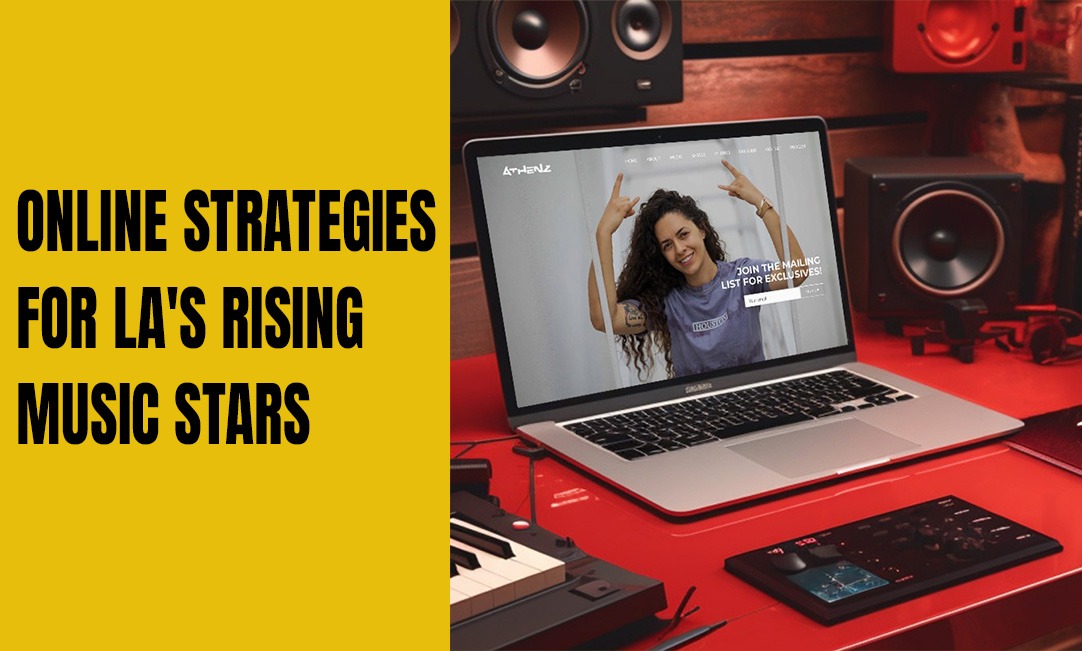 17-Oct-2023
Hello, fellow music artists! Los Angeles is a center for musical talent and attracts music artists from all over the world. However, with many aspiring artists looking for opportunities, you need an online game plan to stand out. Leveraging online strategies has become essential if you want yourself heard far and wide. But the questions of how and where to start might confuse you. This blog contains simple but essential strategies for marketing music online that will help you become a successful online music artist in LA. So, let's get started to make your musical dreams a reality.

Build a Captivating Online Presence
The first strategy for marketing music online is to develop an online presence. As a beginner, you must begin with a killer website that showcases your style and is easy to navigate. Use social media platforms like Facebook, Instagram, Snapchat and others. Post engaging content regularly, connect with fans and share your journey. Work with influencers to expand your reach. To attract attention, upload catchy music videos to YouTube.
To appeal to a younger audience, think about creating content specifically for TikTok. It has grown to be a well-liked platform that supports various musical genres.
Engage fans via live streams and Q&A sessions. Keep in touch with the local scene by using hashtags and geotags.
To maintain your fan base and keep your audience interested, be consistent with your online profile and update it with interesting content.
You'll be the shining star LA has been waiting for if you work hard and have a captivating online presence!
Leverage Streaming Platforms
Streaming platforms can propel the careers of music artists in LA. It is one of the best marketing music online strategies. You must consider uploading your songs to services like Spotify, Apple Music, and others to reach a larger audience.
These platforms benefit artists in several ways and are becoming popular as they offer the best music to music lovers. These give your fans simple access to your music and allow them to sample the best music from the list.
Besides, artists also get monetary benefits when their music streams on these platforms.
However, to benefit the most from these services, you must create captivating playlists and eye-catching cover art to draw in more listeners. You can also work together with well-known playlist curators to increase visibility.
Produce High-Quality Visual Content
Visual content, such as music videos, help in marketing music online to gain more fans and promote your music.
A compelling, intriguing, and original music video instantly goes viral.
Make a video for your most recent release without being afraid to think outside the box. You can also collaborate with influencers to make captivating videos.
UNION Recording Studio, the best recording studio in Los Angeles, is a great place to record music videos, visuals for a live performance, or a video of your recording session. You could also put thought, consideration, and effort into making your videos, which could be very successful.
Invest in high-quality music videos that reflect your brand and aesthetic, and promote them on various social media networks to reach a wider audience.
Next, aspiring artists in LA must use email marketing, a powerful tool for building your fan base, discussing upcoming concerts, selling merchandise and promoting your music. This unique marketing music online tool helps artists connect directly with their existing and prospective fans.
By communicating with fans via email, you can cut through any confusion and noise they may encounter on social media and maintain their attention on your message.
As a music artist, you can use email marketing services, such as ConvertKit, Mailchimp, Drip, Substack, SendinBlue and others. These will help you improve your workflow and find a wider audience.
Email marketing enables music artists to maintain regular contact with their audience. You can keep fans interested in new music and attending your shows by reminding them of your existence and upcoming events.
Music Blogs and Online Music Publications
The most difficult challenge for artists is getting their music heard, but there is a savvy way to break through the noise: getting featured on music blogs and online publications. There are a plethora of genre-specific blogs and publications in Los Angeles. Reach out to them, express your interest, and share your music recorded in the top music recording studio in Los Angeles. This marketing music online move can broaden your audience, increase your exposure, create new opportunities, and strengthen your artistic credibility.
LA offers many options, from Music 3.0 and Aquarium Drunkard to Underground Hip Hop Blog, Grimmy Goods, LA Records, Los Angeles Times, Music Connection, and many more. Seize the chance to make your music heard and shine in the City of Angels!
Conclusion
It takes more than talent to become a music sensation in Los Angeles; it requires a strategic online presence. Music artists in Los Angeles can navigate the competitive music landscape, build a dedicated fan base, and ultimately realize their dreams of success in the City of Angels by implementing marketing music online strategies. Keep your focus, be authentic, and let your music shine. The entire world is waiting to hear your voice!