Photoshoot for musicians - do's and don'ts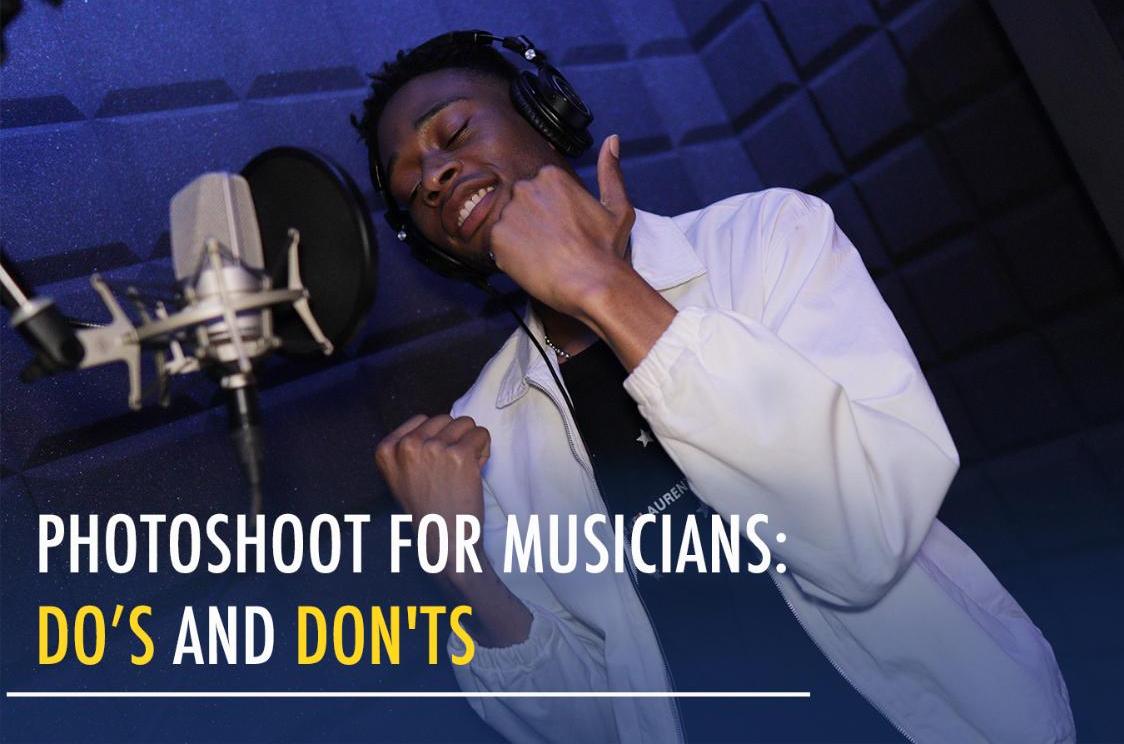 PHOTOSHOOT FOR MUSICIANS - DO'S AND DON'TS
Musicians, a professional photoshoot is such a crucial part of promoting your music in today's digital age. Now and again in your music career, you will be needing professional images — for album covers, social media and posters, media PR etc. and for that reason, the given below five photo shoot hacks and tips could be useful for you during your next professional shoot.
1. Know what you'll need ahead of time.
Any serious picture shoot necessitates some planning ahead of time. Are you looking for direct promotional pictures or images for an album cover? Do you want to be onstage poised or in action? Do you only require headshots? Please don't just ask a photographer to come to a show and pose in front of a stone wall outside the venue! You'll resemble every other musician or band on the planet. The goal is to make a statement in some way.
2. Always hire a pro
These days, we all can shoot nice images with our phones, but that doesn't imply it's a smart idea. After all, just because someone possesses a guitar doesn't guarantee they're capable of playing in your band, right? The same concept applies in this case. You'll need a pro, but you'll also need the proper pro. Find someone who has done band injections before. If you want live shots, get someone who knows how to do it. With Add-On photo service at Union Recording studio, our creative team of professionals will make sure to capture the perfect artistic photos of you as well as behind the scenes shots.
3. Arrive at the shoot well-prepared.
Prepare yourself well for the shoot. Here's what you'll need:
Change of outfits is recommended. Include a few different outfits in both light and dark colors, as well as something you can wear every day. However, don't limit yourself to just that. Now is the time to try out any crazy ideas you have, but make sure they suit your brand.
Some Props, Guitars, motorcycles, stage props, and anything else that might be intriguing in a photo are examples of this. Many artists neglect this, and if props aren't included, it can result in a collection of pictures that all feel the same.
You can try having a makeup artist, to add the perfect finished touch to your photo session. This is well worth the investment, especially if you're a woman and shooting close-ups.
4. Collect a variety of photographs
Because you're already with the photographer, obtain a variety of photos, ranging from headshots to full-length portraits. If you're in a band, you'll probably want both individual and group photographs, talk to your recording studio for advice. Don't be hesitant to experiment with alternative photo configurations; you might find something unique or better suited to you than a typical setup. Because digital photos are so inexpensive these days, you might as well take as many as you can.
5. Make use of the photographer's preferences.
During the session, if the photographer is any good, he or she would have a lot of unique ideas. Just go with it if something that looks out there at the time appears to be amazing in the end. Furthermore, after you're finished, you'll have hundreds of photographs to choose from, which can easily make your head spin if you're not used to looking at pictures of yourself. If you don't have the time or inclination, ask the recording studio los angeles will provide fully edited photographs to you within hours after the photoshoot.
Conclusion
Photo shoots are hard labor, and in the hands of a skilled creative team, they may easily go all day. Explore Union Recording studio, Los Angeles newly launched
photo and video production
services for musicians and recording artists — because those one-of-a-kind moments of your musical journey need to be captured the right way! Relax and enjoy the experience; you're about to be photographed.