The Challenges and Opportunities of Being a Music Artist in Los Angeles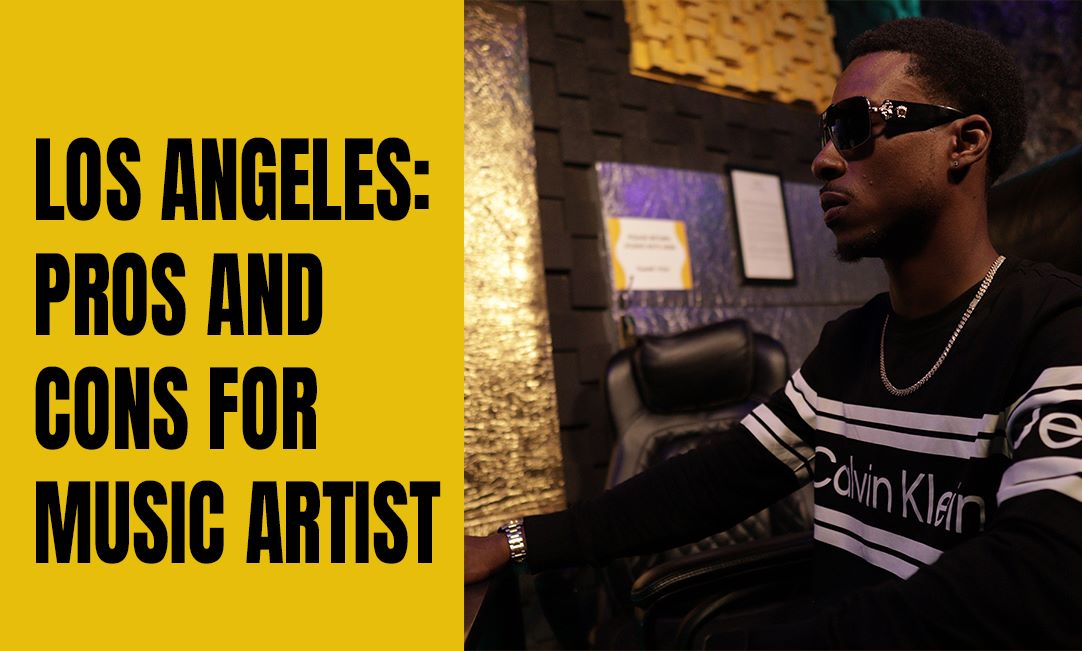 Date: 31-Mar-2023
With its renowned music venues, record labels, and music industry professionals, Los Angeles has long been regarded as a center for the music industry. For many aspiring music artists, the city is the ultimate destination to pursue a career in music. However, being a music artist in the entertainment capital comes with its own unique set of challenges and opportunities. Read below to know the opportunities Los Angeles offers to music artists and the challenges they face here.
Opportunities for Music Artists in Los Angeles
Networking with industry professionals: Los Angeles is home to some of the best producers, publishers, writers, and engineers in the world. The massive music scene in LA is well known for being teeming with musical talent. If you play your cards right and make valuable connections, you might be one of the many experts looking for the newest and greatest thing. If you want to have a successful music career in Los Angeles, you must learn how to communicate with people well.
Events related to the industry take place all over Los Angeles each month. You can never be too sure whom you might meet, so attend all seminars, forums, and PRO events. It is advantageous to establish a network and contact list because they will be helpful when you start your career.
Boost your self-confidence to take on new challenges.
While it's great to create music at home where you are most at ease, this may not always be the best strategy. If you have never lived anywhere else, you may stop challenging yourself to go above and beyond, which is essential for music artists. In addition to those in your field, you'll be exposed to other music artists once you get to LA, which can only be a good thing because it will motivate you to work harder and perform better.
Relocating can be a daunting prospect for anyone. However, as you become more at ease and adjust to life in Los Angeles, you will gain confidence and the ability to overcome any obstacles that may arise. All you have to do is believe in your musical abilities, and wait. Wonderful things will happen to you!
Numerous Venues to Perform
Los Angeles is home to many renowned performance venues, as one might expect. No matter if they are at the Hollywood Bowl or The Wiltern, the city always has concerts worth going to. Once you see some fantastic performances and are inspired, you'll be eager to perform. Even if you aren't quite ready to perform in large arenas, there are many intimate, small venues where aspiring music artists can showcase their abilities, such as The Mint, El Cid, and the Silver Lake Lounge.
By performing at several venues, you can showcase your musical skills, grow a fan base and spread the word about it. Word-of-mouth marketing is essential for aspiring music artists. This implies that attendees of your event are likely to spread the word about it to their friends and family, which could immediately increase the size of your audience!
world-class recording studios
Los Angeles also has many recording studios and practice rooms where you can hone your skills in addition to performance venues. The best recording studio in Los Angeles, UNION Recording Studio, is the perfect location to record and produce your music if you're interested in doing some private music production, vocal recording, or mixing and mastering. Here, you will have the best experience and will be guided by experts.
Practice makes a music artist perfect! If you want the music industry to take you and your music seriously, you must spend time at the best recording studio in Los Angeles and the rehearsal space to perfect your skills. Besides, it is a great place to connect with other music artists and music producers.
Innumerable Opportunities for Collaboration
Additionally, there are numerous opportunities for collaboration in Los Angeles. Music artists can meet people in the industry at live music venues, music festivals and events, recording studios, and other places. You meet people at these gatherings and locations whom you can collaborate with to realize your artistic vision, such as other music artists, producers, sound engineers, and others.
These elements make LA one of the best locations worldwide where aspiring music artists can look forward to making a name for themselves in the music business.
Challenges for Music Artists in Los Angeles
Los Angeles with a thriving music scene drawing a large number of aspiring music artists, however, poses numerous challenges for music artists on their path to success. The following are some of the most typical difficulties faced by music artists in Los Angeles:
Fierce Competition: Some of the most talented and successful music artists can be found in Los Angeles. This indicates that the competition is extremely intense, making it difficult for aspiring music artists to stand out and be noticed. It can be difficult to stand out when so many talented artists are vying for the same opportunities.
Too high living expense: Many music artists find it difficult to make ends meet while pursuing their dreams in Los Angeles because it is an expensive city to live in. It can be difficult for music artists to dedicate their time and energy to their craft due to the high cost of rent, utilities, and other living expenses.
Finding Gigs: Again due to fierce competition, finding gigs and gaining a loyal following in Los Angeles can be extremely challenging. Though many venues and music events are happening in the city, the competition for these spots is fierce, and aspiring music artists have to struggle to land regular gigs.
Moreover, even if aspiring music artists find gigs, they may be get exploited at these places and are often paid low for their effort.
Conclusion
Thus, Los Angeles has its set of challenges and opportunities. While the competition is fierce, the cost of living is high, you may find difficulties in networking, and finding gigs, and may even suffer mental stress, but relocating to Los Angeles for music can be very fruitful. With dedication, hard work, and persistence, you can succeed. As an aspiring music artist, you must consider relocating to Los Angeles to make big in the industry.
UNION Recording Studio, the best recording studio in Los Angeles, is here to help you achieve your goals. We help aspiring music artists with a rental studio, recording, mixing, and mastering services. We can also help you with professional photo and video shoots, which you can utilize in the promotion. The best recording studio in Los Angeles is easily accessible. You just need to connect with us and we can talk over to start assisting you.