Top 10 Radio Stations for Rap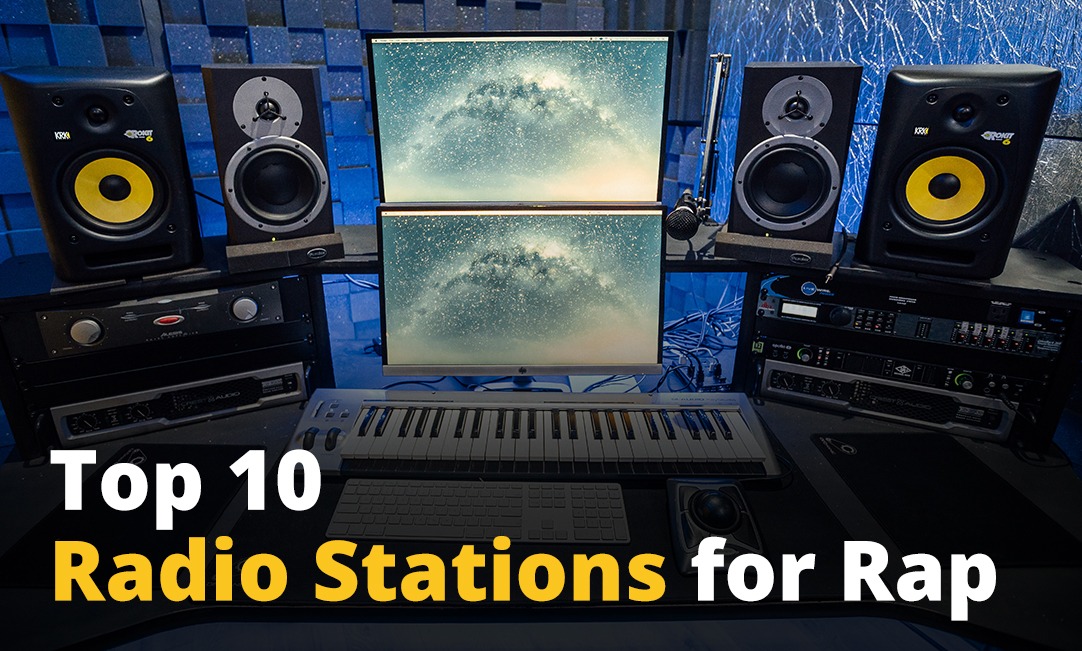 Rap and hip hop are the most popular musical genres in the United States, consuming almost a third of all streams, claims Billboard.
Though rap is steadily gaining popularity, the best rap radio stations are difficult to find (amid the sea of ​​pop and "butt-rock" that the radio is most frequently associated with). We've put together this comprehensive list of our favorite rap radio stations for your convenience, complete with a rundown of what they play and when they play it.
1. Streetz 94.5 FM, the Local FM and Online station for Hip-Hop fans
Streetz 94.5, the latest hip-hop station in Atlanta, may not be the biggest mainstream radio station in Georgia, but it is definitely one of the best. It is best known for featuring the city's native hip hop and rap artists while broadcasting urban contemporary.
With all the recent rap talent coming out of Atlanta, Streetz 94.5 is a great place to find new rappers. Additionally, you can access the most recent news, keep up with nearby events, and listen to the entertaining morning show.
2. Hot 97, the Local and Online station for Hip-Hop and Urban Contemporary fans
One of the hottest spots for all things hip-hop is Hot 97. With the call letters W2XWG when it first debuted in 1940, the station changed its name to Hot 97 in 1992 and broadcast urban contemporary music out of Hudson Square, New York.
Today, the channel features everything fr om brand-new music to artist news, interviews, and videos. On its website, music is streamed live around the clock. You can also download the Hot 97 app to your smartphone and listen to the radio station there.
Hot 97 is big enough to have exceptional brands and programs that can't be found anywhere else but small enough to be nimble in serving their listeners. It's a safe bet that they are correct, given the fact that their presence spans Twitter, Facebook, YouTube, and several radio software programs.
3. Power 106, the Local and Online station for Hip-Hop and Urban Contemporary fans
Meruelo Media, the media company that owns Power 106, was founded in 1986 and proudly asserts that it is the largest minority-owned media company in Southern California.
Power 106, widely regarded as the first rhythmic contemporary radio station, is the go-to place for everything hip hop in LA. By excluding rock from its playlists, the station is in fact, to blame for the name "rhythmic contemporary."
"Wh ere Hip-Hop Lives" is the station's tagline, and judging by the videos they have of their DJs addressing Nicki Minaj, Lil Wayne, and a host of other big names, they aren't exaggerating.
4. Power 105.1, the Local and Online station for Hip-Hop, Urban Contemporary, and RnB fans
Best known for being the home to one of America's top radio programs, The Breakfast Club, Power 105.1 is a New York-based music radio station. It has been in service since 1953 and has undergone numerous modifications.
Besides its morning shows, Power 105.1 is an excellent source of rap music, hip-hop news, and podcasts. While it primarily airs in New York, you can watch it via the channel's app or YouTube.
5. 97.9 The Box, the Local and Online station for nationwide Hip-Hop and RnB fans
Another very popular radio station is Houston-based, The Box. When you visit their website and see what they've got going, you get much more than just music.
The interactive aspect between the station and its listeners is highlighted on its website. You tune in with more than just your ears; you also tune in with your hands, voice, and body.
The Greater Houston area currently only has The Box as its hip hop/RnB station. Madd Hatta has been hosting the morning program since March 2001. (Although he has been a morning host on 97.9 The Box since 1995, starting out in the afternoons).
6. K104, the Local and Online station for Hip-Hop, Classic Rap, and Soul fans
K104, the most popular radio station in Dallas, Texas, is also one of the oldest. Before settling on hip hop, it first broadcast classical music, moved on to the prog rock, then Christian music, and now.
For almost ten years, Skip Murphy and the Home Team, the station's long-running morning drive programme, ranked first in its time slot. Several well-liked characters fr om the show, including Wig and comedian Nannette Lee, have left in recent years.
7. 97.9, The Beat, the Local and Online station for Hip-Hop and Adult Contemporary fans
Urban One is the owner of the Dallas and Fort Worth-licensed KBFB. Up until the time the rival stations gradually shifted to playing other genres of music, the station faced some fierce competition in the urban contemporary scene.
The Morning Hustle replaced the Rickey Smiley Show, which had previously been featured.
The station claims to understand the culture because it itself is the culture when speaking with prospective sponsors.
8. Big FM, an Online radio station for Old School Rap and Hip-Hop fans
One of the largest radio networks in the world, Big FM broadcasts in numerous nations. Additionally, it has a smartphone app wh ere you can access great hip hop and rap as well as an online radio that broadcasts live music for free across many websites.
Big FM stands out because it prioritises good music above all else, regardless of language or genre. There, you can listen to music in German, Latin, and even Turkish. In addition to listening to music, you can also read articles, watch a variety of shows, and get the most recent news.
9. V-103, the Local and Online station for Hip-Hop and Urban Contemporary fans
V-103, which is owned by Audacy and consequently CBS, has developed into one of the top-rated radio stations in the Atlanta radio market, occasionally reaching the #1 spot.
But rap isn't the only genre covered by V-103. R&B, soul, and occasionally even gospel music are also available. In addition, the channel emphasises sports news, analysis, and a number of podcasts. It has a tonne to offer its listeners, in fact.
10. Cadillacc Music, the Local and Online radio station for Old School Rap, Hip-Hop, and RNB fans
Be sure it is one of the best good radio stations as it is hosted by Snoop Dogg himself under the alias DJ Snoopadelic.
RnB is present, but RnG, or rhythm and gangsta, is predominant. There is only one thing to do when Snoop's ears are curating your playlists, and that is to roll down your Caddy's windows and broadcast what music you are listening to.
Let's wrap up
Whatever style of rap you prefer, we're sure this article will prove to be a great source of information on popular rap radio stations to listen to during your commute to your daily duties or gym session in the early morning.
If you found this article interesting and informative, stay tuned with UNION Recording Studio, a professional recording studio, offering rental studio, and mastering services, podcasting and other music mixing production services.