Top 5 Best Record Labels in Los Angeles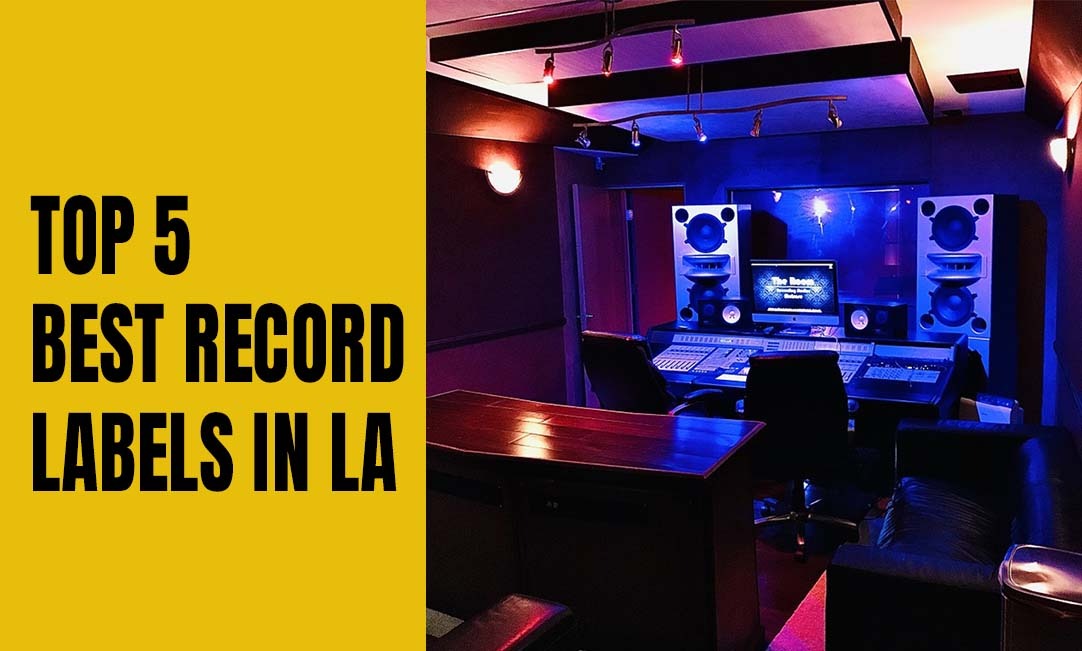 9-Sept-2023
Los Angeles, the city of dreams, has long been a haven for artists seeking a platform to showcase their talents and make their mark on the music industry. The city has some of the most important and recognizable recording labels in the music business. Some of the biggest names in the music industry are attached to these LA record labels, which also contributed to the shaping of the sound of popular music. In this blog, we will explore the top five best record labels in Los Angeles that have played a significant role in shaping the sound of the city.
1- Dreamville Records
Another major record label in Los Angeles is Dreamville Records. Some of the most gifted and innovative music artists come from Dreamville Records, founded in 2008 by Grammy Award-winning artist J. Cole. Its roster features performers like Bas, J.I.D, Ari Lennox, Cozz, and Omen, among others.
Dreamville Records is considered one of the most reputable record labels in the hip-hop and R&B genres. The label has quickly found success, garnering numerous awards and accolades. Its goal is to provide a platform for artists to express themselves and share their music with the world. With Grammy nominations and number-one singles on the Billboard charts, Dreamville Records is a major player in the music industry in LA.
You can email Dreamville at info@dreamville.com to submit your music.
2- Foreign Family Collective
Located in Los Angeles, Foreign Family Collective is a record company established by ODESZA's Harrison Mills and Clayton Knight in 2015.
The label places a strong emphasis on teamwork between music artists, producers, and engineers as well as on making music that has strong emotional resonance. Hip-hop, electronic, experimental, and indie rock are just a few of the genres that the Collective label has released music from.
The record label in Los Angeles has collaborated with many of the most important music artists, such as Jai Wolf, Nasaya, ODESZA, Chet Faker, and many others. Besides, releasing music, the label also organizes events, runs a clothing store, and even has a discord server where fans can chat. The goal of the label is to push the boundaries of music and produce something unique.
You can submit your music to Foreign Family by filling up a form. Click here https://www.foreignfamilycollective.com/connect to submit your song.
3- Delicious Vinyl
Matt Dike and Michael Ross established the independent record label Delicious Vinyl in Los Angeles in 1987. For helping to launch the careers of hip-hop artists like The Pharcyde, Masta Ace, Tone Loc, Young MC, and Brand New Heavies, the label is best known.
The record label in Los Angeles quickly established a reputation for being ahead of its time with the goal of releasing music that was "original, creative, and funky" when it was first established. Hip-hop was one of the first genres that Delicious Vinyl, one of the first labels to support it, helped to define through its releases. It also released some of the earliest West Coast hip-hop tracks, which would later have a major impact on the growth of the genre.
Other genres of music, such as funk, soul, jazz, reggae, and electronic music, have also been released by Delicious Vinyl. The label has also published a number of compilations with a mixture of established and up-and-coming musicians.
Submit your song to Delicious Vinyl through email at contact@deliciousvinyl.com.
4- Brainfeeder
Flying Lotus established Brainfeeder, a record label in Los Angeles, in 2008, and it features a wide variety of experimental and electronic music with an emphasis on electronic music and instrumental hip-hop. Aiming to push the limits of sound, Brainfeeder has emerged as a hub for modern and innovative music artists like Thundercat, Kamasi Washington, and Flying Lotus, garnering praise from critics and a devoted fan base.
You can email your songs to bfcustomerservice@diystro.com
5- Dangerbird Records
Dangerbird Records, founded in 2004, is an independent record label in Los Angeles that has earned a reputation for its diverse roster of artists and commitment to supporting emerging talent. Silversun Pickups, Fitz and the Tantrums, and Minus the Bear have all benefited from the label's ability to identify promising acts across a variety of genres.
You can click here to submit your songs: https://dangerbirdrecords.com/contact/
Conclusion
Los Angeles is a melting pot of musical talent, and its record labels serve as catalysts for discovering and nurturing artists who shape the industry. From the legendary Capitol Records to the trailblazing Collective, each label on this list has had a significant impact on the music scene, constantly pushing boundaries and amplifying the voices of diverse artists. These record labels in Los Angeles exemplify the spirit of creativity and innovation that has made the city the thriving music hub it is today.